This is an archived article and the information in the article may be outdated. Please look at the time stamp on the story to see when it was last updated.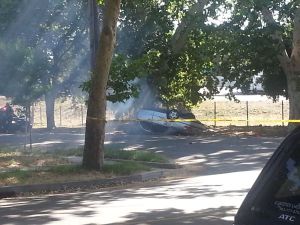 SACRAMENTO-
A man entered the El Dorado Savings Bank in downtown Sacramento to demand cash, but before taking any money, he fled the bank and drove away, leading to a deadly police chase.
The Sacramento Police Department responded to the report of the alleged bank robbery on Friday around 4:30 p.m.
The suspect, Michael Parker, 45, entered the bank and passed a teller a note demanding cash. Parker's note also said he would take hostages. Moments after he handed over the note, without taking any money, he drove away in a gray sedan parked outside.
Witnesses were able to describe the car, including the car's license plate number, and police found Parker as he was getting onto westbound Highway 50 from Stockton Boulevard. Police turned on their lights to pull him over, and he immediately drove away. Parker then got on eastbound Business Loop 80.
Officers chased the felon north onto 30th Street. The suspect then veered off of the road and hit a tree on the nearside, causing his death.
Police do not know what caused the driver to crash, and no other people were injured during this event.
The Sacramento Police Department urges anyone with information pertaining to this crime to contact the dispatch center at (916) 264-5471 or Crime Alert at (916) 443-HELP (4357) or text in a tip to 274637 (CRIMES). Enter SACTIP followed by the tip information. Callers can remain anonymous and may be eligible for a reward of up to $1,000.
Greg Cotta filed this report.