This is an archived article and the information in the article may be outdated. Please look at the time stamp on the story to see when it was last updated.
STOCKTON — The San Joaquin County District Attorney's office issued an arrest warrant for former Stockton Mayor Anthony Silva Thursday, as investigators seized property from both his home and the Stockton Kids Club, an organization he has been a part of for years.
Sources say the warrant is not tied to his arrest in August.
Happening now: San Joaquin County District Attorney's office executing a search warrant at the Stockton Kids Club. pic.twitter.com/7CVZNaNfiu

— Kay Recede (@KayRecede) March 2, 2017
The spokesman with the DA's office would only say this is a part of an ongoing investigation. #Stockton pic.twitter.com/YcCycN97PX

— Kay Recede (@KayRecede) March 2, 2017
Several boxes of evidence loaded into this vehicle from Stockton Kids Club #Stockton pic.twitter.com/wkVlMAdGLH

— Kay Recede (@KayRecede) March 3, 2017
"Anthony Silva has no problem facing any allegation. He stood up last time and he'll do it here," Silva's attorney Allen Sawyer said.
Sawyer told FOX40 that the investigation into Silva's home and the Stockton Kid's Club was alleging some sort of financial crimes, but did not specify what kind.
Silva did not answer FOX40's requests for comment.
Sources confirm to @FOX40 a search warrant has been issued at ex Stockton Mayor Anthony Silva's home. He's apparently out of the country. pic.twitter.com/dNozIPzrJM

— Nicole Comstock (@ComstockNEWS) March 3, 2017
However, he did post to Facebook Wednesday morning that he left the country and went on a trip somewhere near Panama. The post read: "Apparently Stockton can manage without me for a while so I decided to go explore the world. 'I'm leaving on a jet plane, don't know when I'll be back again.'"
The post was deleted late Thursday, but not before drawing suspicion online. Some people were questioning whether or not Silva left the country before the search warrants were served on purpose.
His attorneys told FOX40 no one would do that because no one would want their home being searched while they were not there.
"He's on a vacation overseas so I'm sure if they want him in court, he'll be there," Sawyer said.
List of items seized from ex Stockton Mayor Anthony Silva's home. Attorney not identifying items, tells @FOX40 invest. likely financial. pic.twitter.com/XuzhJt5ujV

— Nicole Comstock (@ComstockNEWS) March 3, 2017
When asked what he thought about authorities serving the search warrants and issuing a warrant for Silva's arrest a day after he made a public post about leaving the country, Sawyer said he didn't know what to think and that there were a lot of coincidences with timing in this case, and with Silva's arrest at a summer camp last year. In that case, Silva fought felony charges for his alleged recording of a strip poker game involving teenagers and the charges against him were reduced to a misdemeanor.
"I'm very skeptical. And I'm gonna withhold judgement and I ask the public to do the same. He's been proven right once, let's see whats gonna happen here," Sawyer said.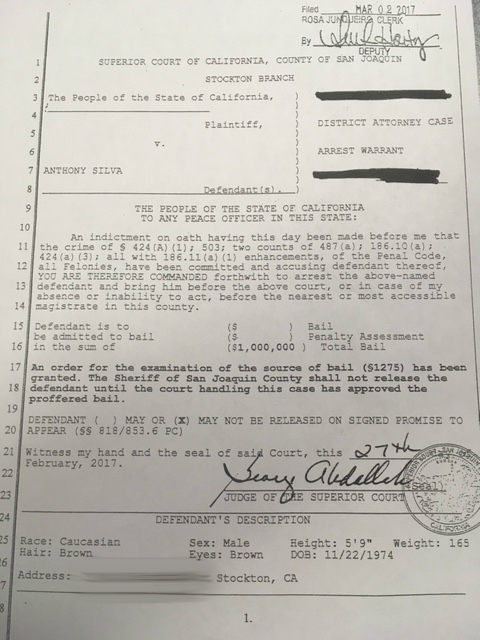 People who know Silva well tell FOX40 that they have never known him to be involved in any type of financial crimes.
Charges listed in the warrant include misappropriation of public money, embezzlement, grand theft and money laundering. The bail amount was set at $1 million.
"I took him to the airport. I said 'Really? You put it out there on Facebook, really?' He said 'I'm not gonna do it Glenn,' I said, 'OK,'" Silva's good friend and house-sitter Glenn Jose said Wednesday.
FOX40 happened to be interviewing Jose on Wednesday about a fire that tore through his non-profit H.O.P.E on Monday and destroyed most of his office, including computers, filing cabinets, documents, and clothes. Thursday, Jose said he had been staying at Silva's house off and on, and that he was house sitting. He said he had not talked to Silva directly about the warrant for his arrest, but got a message from someone that Silva was okay.
One of Silva's other roommates, a 24-year-old named Brandon, who also frequents the Stockton Kid's Club, said that he answered the door to authorities Thursday when they issued the search warrant and was briefly handcuffed.
"Ever since I've known Anthony I've never seen anything, criminal-wise. I've known him since I was seven years old, and my whole life he's just given good advice and just told us to do good things, stay out of trouble, so it makes no sense," Brandon said.
Silva's attorney said late Thursday they did not yet have a plan to get Silva back to Stockton.
Stay with FOX40 and FOX40.com for the latest on this developing story.