This is an archived article and the information in the article may be outdated. Please look at the time stamp on the story to see when it was last updated.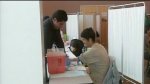 SACRAMENTO-
As students return to school at Grant Union High School in Sacramento, they will have a chance to be tested for Tuberculosis, after an infected student started multiple rounds of testing earlier this year.
Confidential testing will be offered to any student or staff member who has not been tested for TB.
The Sacramento County Department of Health and Human Services says all four students who were diagnosed with active TB are getting treatment and are not infectious. The more than 120 staff or students who were diagnosed with latent Tuberculosis are not sick, and cannot infect other people. However, health officials say they are still receiving treatment to be safe.
"All exposure to the disease occurred prior to March, and there was only one student who was identified as infectious. That student has been treated," according to Sacramento County Public Health Officer, Dr. Kasirye.
Tuberculosis is a bacterial disease that can spread through the air.
In Case You Missed It:
4 Students Test Positive for Active TB
More than 100 Test Positive for TB at Grant Union High School
Tuberculosis Testing Expanded at Grant Union High School