This is an archived article and the information in the article may be outdated. Please look at the time stamp on the story to see when it was last updated.
STOCKTON — Stockton investigators worked along Park Street Monday night after shots rang out, leaving a man dead and two others injured.
At least three people were hit by the gunfire Monday night in the area between North American and North Sutter streets.
A witness described seeing someone jump out of a car and open fire near North Sutter and Flora streets. It was along North Sutter Street, between Flora and Park streets, where police say they found a 19-year-old man who had been shot. He later died at a local hospital.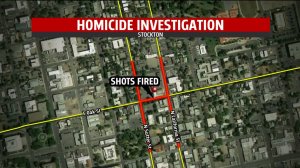 Clerks working at Cal Park Grocery and Liquor, located a block away, say one of the other two victims was a daily customer who had just checked out when the shooting began.
"He take the stuff, he go outside. He come back, 'Somebody shoot my guy, somebody shoot my guy,'" described Maney Singh.
Gurnam Singh says he saw the customer with a 5-year-old boy who had been shot in the leg.
We've just learned from @StocktonPolice that a 19 year old man was killed in tonight's multiple shooting. He was found here on Sutter St., but did not survive after being taken to the hospital. A 5 yr old boy & a 28 year old man were also shot but are expected to survive. @FOX40 pic.twitter.com/OIfDYxduuM

— Sonseeahray Tonsall (@tonsalltv) October 2, 2018
The boy and the 28-year-old man were both injured but the police department says they are both expected to be OK.
Another block away from the store, at Park and North American streets, police had crime scene tape up, protecting an area where they'd put down nine evidence markers.
SO.
If you know anything about this incident, you're asked to call Crime Stoppers.
Third part of this shooting scenario now roped off by @StocktonPolice… a block of Sutter Street where it intersects with Park. As of yet, no updated conditions on the confirmed 3 shooting victims. @FOX40 pic.twitter.com/ZlMyVE3UAl

— Sonseeahray Tonsall (@tonsalltv) October 2, 2018
Stay with FOX40 for more updates.