This is an archived article and the information in the article may be outdated. Please look at the time stamp on the story to see when it was last updated.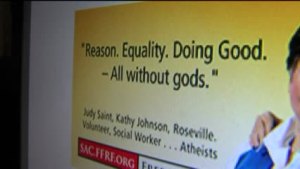 SACRAMENTO–
More than 55 billboards funded by the Freedom From Religion Foundation (FFRF) will pop up in Sacramento this month. The billboards will contain atheist messages from the local FFRF Sacramento Chapter.
"They are going up to let the fellow non-believers know they are not alone," said FFRF Sacramento President Judy Saint of Roseville.
But, Bishop Jaime Soto with the Cathedral of a Blessed Sacrament refers to the billboards as propaganda.
"While I'm not happy about these billboards, I am certain people still, when they look deep down in their soul and in their heart, find a spark. They believe in a higher power," Soto said.
Soto told FOX40 he does not think the billboards will have a large impact on the community.
Saint hopes he's wrong, and wants others to know what it means to be an atheist.
"We are just like other people. We celebrate the holidays, but we don't believe in god. You could call us free thinkers," Saint said.