This is an archived article and the information in the article may be outdated. Please look at the time stamp on the story to see when it was last updated.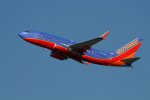 OMAHA, Nebraska –
An attorney for the Sacramento man who tried to open a plane door mid-flight says his client just wanted to look out the window.
Joshua Suggs faces federal charges for interfering with a flight crew for the April 13 incident. Suggs pleaded not guilty in a Nebraska federal courtroom Thursday. After the onboard disturbance, the plane made an emergency landing in Nebraska.
His attorney told FOX40, Suggs initially just wanted to look out the window, plus the news of the missing Malaysian flight may have gotten to him.
Passengers recalled the man becoming difficult with the flight crew; a UC Davis doctor, Dr. Scott Porter, and two other passengers helped restrain Suggs.
Click here to watch Dr. Porter describe what happened onboard
Suggs has taken that trip many times, his mother lives in Chicago.
The attorney also said investigators searched Suggs' car and Sacramento home, and that his family does not have access to his belongings.
Suggs will undergo a mental evaluation. If he is found guilty, he could face 20 years behind bars.