This is an archived article and the information in the article may be outdated. Please look at the time stamp on the story to see when it was last updated.
SACRAMENTO-
The body of a woman found inside the car of a missing Sacramento woman is that of Aubrey Andrews. The Sacramento County Coroner's office identified the body Wednesday afternoon.
The coroner also confirmed Aubrey's fetus did not make it. A baby was listed on the Sacramento County Coroner's records, with no cause of death included.
Andrews, 20, was 9 months pregnant when she went missing December 6. Her car was found in the parking lot of an Elk Grove Walmart Monday night. At the time, investigators only said they found the body of a woman inside the car.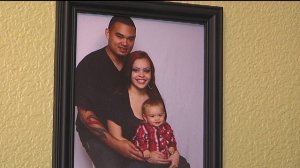 Wednesday, the coroner confirmed that the body found Monday was Andrews. When asked about a cause of death, the coroner's office said they did not have one at this time. They did not know when they would have one, either.
UPDATE: Aubrey's family has issued a statement.
Aubrey's husband, Edward, reported her missing the day she went missing, on the 6th. Sacramento Police issued a missing persons alert for her over the weekend.
At the time, Edward told FOX40 his wife didn't take clothes or anything with her. He also said the day after she went missing, her purse was left on their doorstep. Aubrey also left behind her 3-year-old son.
FOX40 uncovered a tumultuous past between Aubrey and Edward, including a restraining order filing in January, and a divorce filing in May. The divorce filing was later canceled by Aubrey.
When the body was found earlier this week, Sacramento Police said there were no obvious signs of foul play but they were not ruling anything out.