This is an archived article and the information in the article may be outdated. Please look at the time stamp on the story to see when it was last updated.
GRANITE BAY — Auburn Folsom Road has been closed off in both directions due to two separate car crashes and a downed power pole in the street.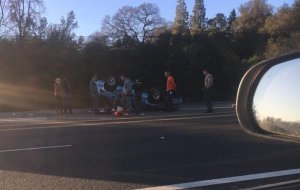 The Placer County Sheriff's Office reports that someone was injured in one of the crashes near Beals Point at around 4 p.m.
A white Ford Ranger crashed through a brick wall and into a front yard. The other vehicle flipped and landed upside down in the middle of the roadway.
It is unknown at this time what the exact series of events was, what caused either vehicle to crash, or how the power pole fell.
[protected-iframe id="cd2c014d2fcfdf40944aaa0606844249-37181424-112716948″ info="https://www.facebook.com/plugins/video.php?href=https%3A%2F%2Fwww.facebook.com%2FPlacerSheriff%2Fvideos%2F1184743918246770%2F&show_text=0&width=560″ width="560″ height="315″ frameborder="0″ style="border:none;overflow:hidden" scrolling="no"]
Stay with FOX40 as this story develops.