This is an archived article and the information in the article may be outdated. Please look at the time stamp on the story to see when it was last updated.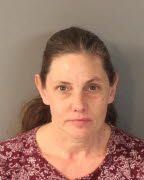 AUBURN — A woman who left threatening voicemails on a man's phone and stalked him at his home was arrested Thursday by Auburn Police.
Sgt. Chris Forman of the Auburn Police Department reports officials were told of Tina Bale's criminal activities Wednesday.
Bale, 51, had been intimidating the victim and stalking him for an undisclosed, but significant length of time.
A resident of Auburn, Bale was arrested on suspicion of sending criminal threats and stalking. She has been booked at the Placer County Jail with a $1 million bail.
Any connections the victim had to Bale have not been reported at this time, however, the two did know one another.