This is an archived article and the information in the article may be outdated. Please look at the time stamp on the story to see when it was last updated.
STOCKTON—
The California Department of Justice is investigating to see if it was a Stockton officer's gun or a suspect's weapon that fired the round that killed Misty Singh.
Meanwhile, FOX40 heard a firsthand account of what police had to endure during the one hour long pursuit.
It's the last 30 minutes of police scanner audio recorded from the website broadcastify.com posted on YouTube.
Two minutes into the recording police began screaming out over their radios, "We are taking fire, we are taking fire."
The audio recording details what happened six days ago after the Bank of The West robbery, as police chased three dangerous and armed suspects through the City of Stockton.
The stakes were high and the chase was on, lasting for about an hour.
Officer over police scanner: "Shots fired."
Yvonne Sampson's family member got caught up in the chaos of the pursuit.
"My niece says the gun was pointed right at her face and the gunmen ended up going around her," said Yvonne Sampson, a Bank of The West customer.
Stockton Police confirm the  suspects had the money at the time, and were apparently doing anything they could to get away with the cash.
READ: Stockton Police Believe Dead Chase Suspect Linked to Previous Robbery
Officer over police scanner: "He's shooting at us with a rifle."
Inside the Ford Explorer, three suspects with three handguns and one illegal assault weapon.
Officer over police scanner: "He has an AK out of the window."
It was like a war zone, shots whizzing through the air with officers apparently unclear about the hostages inside.
Officer over police scanner: "I don't know if it's been confirmed that there is a hostage."
Stockton Police confirms one hostage was shot and pushed from the moving SUV.
Officer over police scanner: "Left passenger is a hostage with their hands up."
Another hostage was wounded and was either forced out or bailed out towards the end of the pursuit.
Officer over the police scanner: "I think they just drop the hostage on the ground. Stop and get the hostage,take care of the hostage."
Three minutes later, police made it clear that the crime spree had come to an end.
Officer over police scanner: "No movement in suspect vehicle. Hold your fire, cease fire."
Suspect Jaime Ramos  managed to stay alive, the two others died.
WATCH: Family of Slain Hostage Expresses Grief, Asks for Recordings of Stockton Chase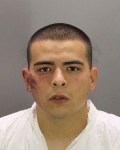 One hostage; Misty Holt Singh, a wife and a mother caught up in a vicious crime that claimed her life.
Stockton Crime Stoppers is offering a $10,000  reward for the 4th suspect who was behind the wheel of the drop off car. If you have information call (209) 946-0600.
Stockton Police Believe Dead Chase Suspect Linked to Previous Robbery
Family of Slain Hostage Expresses Grief, Asks for Recordings of Stockton Chase
Surviving Stockton Robbery, Chase Suspect Faces Judge
Mayor Asking for More Cops After Deadly Chase and Shootout
Relatives of Slain Hostage Blame Police Tactics
Stockton Robbery and Chase Update: 20+ Officers on Leave, Suspects Had Gang Ties