This is an archived article and the information in the article may be outdated. Please look at the time stamp on the story to see when it was last updated.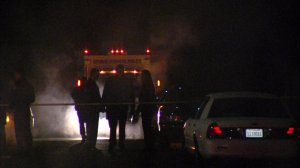 CITRUS HEIGHTS–
Police have identified the men in a deadly officer-involved shooting that stemmed from a car burglary investigation.
Officers responded to a call of a suspicious person at the Glen Alta Drive and Debbie Ann Court intersection around 2 a.m. Thursday.
When an officer arrived, he confronted a man matching a caller's description of the suspects. Citrus Heights Police say the officer at some point with the suspect feared for his life, and opened fire.
Hunter Jacob Todd, a 20-year-old from Citrus Heights, was the man shot and killed by an officer. The officer feared for his life after Todd looked to be reaching for a weapon. An "edged weapon" was found near where Todd was reaching.
Officers immediately gave him first aid and he was transported to the hospital, but was later pronounced dead.
Richard Martin Duran, a 20-year-old also from  Citrus Heights, was in a different car and was arrested by police that morning. He faces numerous charges related to auto theft, plus two bench warrants.
No officers were injured in the shooting.