This is an archived article and the information in the article may be outdated. Please look at the time stamp on the story to see when it was last updated.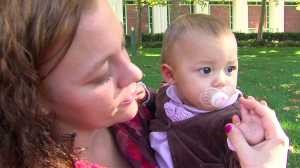 MERCED-
When Lylah Rose got sick at the age of 2 months, she was taken to Mercy Medical Center in Merced. Her parents say she left in worse shape than when she arrived.
A lawsuit filed today by Lylah's parents alleges that a nurse was struggling to find a vein in the baby's hand to start an IV. Her mother says the nurse took some sort of light tool and held it to the baby's hand to help find a vein. After several minutes, she says the light severely burned the hand and caused Lylah a great amount of pain.
"She was screaming at the top of her lungs," said Tiffany Payne, Lylah's mother. "I finally told them to stop."
"You can't just ad lib and take lights that aren't designed to find veins and try to use them, because they're too dangerous," said Moseley Collins, the family's attorney, during a press conference. "They burned a hole in her hand as a result."
Lylah was brought to a hospital in Sacramento, where skin graft surgery was performed on her hand. Her parents worry that she will never fully recover.
In response to the lawsuit, Robert McLaughlin of Mercy Medical Center Merced sent FOX40 the following statement: "Patient safety and quality care are always our highest priorities at Mercy Medical Center. We take this incident very seriously and have conducted a thorough review of the events. Consistent with patient privacy laws and hospital policy, we respect the privacy of our patients and will not discuss the specifics of their care, nor comment on pending litigation. Our hearts and prayers continue to be with the patient, her family, hospital staff, and physicians."