This is an archived article and the information in the article may be outdated. Please look at the time stamp on the story to see when it was last updated.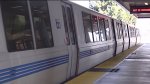 SAN FRANCISCO (LA Times) —
A threatened midnight strike that would have shut down the Bay Area Rapid Transit system was averted late Sunday when Gov. Jerry Brown called for an investigation into the labor dispute.
The governor's action prohibits a strike or lockout during the investigation.
Brown also announced that he has appointed a three-member board to examine the threatened strike and to report to him in seven days.