This is an archived article and the information in the article may be outdated. Please look at the time stamp on the story to see when it was last updated.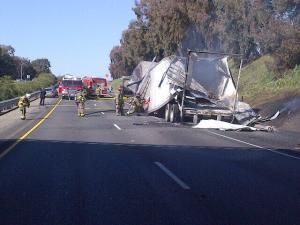 GALT-
A burning big rig is slowing traffic to a crawl on northbound Highway 99 at Twin Cities Road in Galt Thursday afternoon.
The overpass has been closed, no word when it might reopen.
California Highway Patrol says the truck had hit several other cars.
Cosumnes Fire Department tweeted information that at least one person had been taken to the hospital.
The truck was reportedly carrying hot sauce.