This is an archived article and the information in the article may be outdated. Please look at the time stamp on the story to see when it was last updated.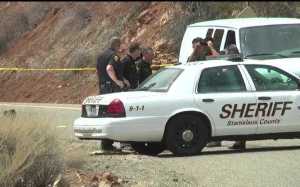 DEL PUERTO CANYON–
Another dead body was found in Del Puerto Canyon, with authorities noting it's the third one found in past two months.
The body was noticed by a resident of Del Puerto Canyon around 6:20 p.m. Saturday near mile marker 12 of the ravine. Sheriff's deputies showed up at the scene and found the body about 300 feet down the ravine.
Detectives worked through the night, but could not come up with any witnesses or any more details about how the body got there.
An autopsy is scheduled for Monday morning to determine the cause of death.
Authorities note that while two bodies were found in the canyon back in early August, it's too early to say if the two incidents are related.
Anyone with information about the crime is asked to call Detective Jon McQueary at (209) 525-7099. Tipsters can also leave and anonymous tip to Crime Stoppers at (209) 521-4636.