This is an archived article and the information in the article may be outdated. Please look at the time stamp on the story to see when it was last updated.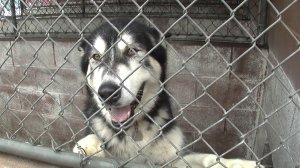 TURLOCK–
Bolt, the Alaskan malamute sentenced to be euthanized after biting a woman, has been given a stay of execution.
The stay was announced after a court hearing in Stockton Monday morning. A handful of protestors were outside of Turlock city hall, awaiting the decision.
The bite happened back on Halloween weekend, when the 3 and half-year-old, 140 pound dog bit McKenzie Leedom after she laid on top of him in the middle of the night.  She was dating Bolt's owner, Daniel Mendonca, at the time.
McKenzie's mother, Ray Anne Leedom, was the one to report the bite. McKenzie reportedly didn't want to cause any trouble, but she needed several stitches to repair the damage.
At an earlier hearing, an animal control officer said Bot bit another woman in the face in a separate incident. Bolt was then declared "vicious" and sentenced to be euthanized on Dec. 11.
However, a campaign soon started in support of Bolt, with a Facebook page garnering over 2,000 likes.
McKenzie has said that she feels her reputation has been tarnished by untruths since the start of the campaign to save Bolt. Supporters of Bolt have claimed that McKenzie was intoxicated at the time and that she was lying on the dog, or had him in a headlock.
With two dogs of her own, Mckenzie is in the process of filing a restraining order against Mendonca. She claims that he threatened her after the biting incident.
FOX40 reached out to Ray Anne Monday afternoon, but she said that her family does not want to talk to the media.