This is an archived article and the information in the article may be outdated. Please look at the time stamp on the story to see when it was last updated.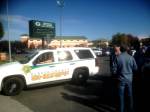 GRANITE BAY-
Granite Bay High School was put on lock down for a short time Thursday morning after a suspicious note of a bomb threat was found.
A suspicious note found in a restroom prompted the lock down, according to the Placer County Sheriff's Office.
Deputies searched the school, but ultimately didn't find anything. Students were asked to shelter in place during the search.
The lock down was lifted shortly after noon, having lasted about an hour and half.
The sheriff's office kept a presence on campus the rest of the day.
Cecilio Padilla contributed to this report.