This is an archived article and the information in the article may be outdated. Please look at the time stamp on the story to see when it was last updated.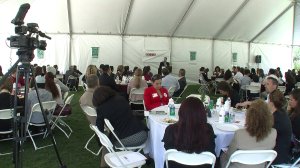 SACRAMENTO-
One hundred fifty charter school leaders and parents attended the Calfiornia Charter Schools Association's 20th Anniversary Advocacy Day at the State Capitol.
Charter schools were approved in 1992 on a limited basis but now make up 20 percent of the nations charter schools with over 1,000 schools.  But with all their success, advocates say they must still protect themselves from legislation they feel will weaken them.
Chief among them are a bill that makes it harder for them to negotiate with public school systems to rent space and another that puts more restrictions on charter schools.  Despite their success, charter schools still don't get as much money as district schools.
"All these students are public school students in the State of California and they all deserve the same level playing field when they go to school," said Jim Scheible, the Superintendent of St. Hope Charter Schools.
What charter schools has given parents and students is an alternative to school district schools.  Kelly Lawler helped form the Walden Academy in Willows where she wanted a learning environment that would take advantage of the local farming economy.
"We started by just wanting a choice in public education for our kids," said Lawler.
Lawler also says her new school gives parents more local control than a school district board that may not have a connection to students.
"We have five parents, a teacher and a community member on our board," said Lawler.
There are still school boards who feel charter schools drain money and students from the district schools, and the powerful teacher's union has traditionally opposed charters which are not required to hire union teachers.
But each year since 1992, the number of schools and students continued to grow.