This is an archived article and the information in the article may be outdated. Please look at the time stamp on the story to see when it was last updated.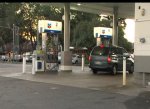 EMERYVILLE –
The recent increase in temperatures could be partially responsible for the increase in gas prices in California.
Prices typically go up during the Spring, but this week's prices are 26-cents higher on average than a month ago, according to AAA. The statewide average is $3.91/gallon.
However, prices have been down so far in 2014. For comparison, gas prices are 26-cents cheaper now than they were a year ago across California.
The automotive group says in addition to the seasonal refinery maintenance and switchover to summer-blend that increases prices in the Spring, there has also been a surge in gas consumption as Californians hit the roads in bigger numbers, earlier than normal.
Get used to the increase, too. AAA says further escalation of tensions with Russia and that region could cause oil prices to shoot up.
Nationally, the price for a gallon of gas is up 22-cents in the last month.