This is an archived article and the information in the article may be outdated. Please look at the time stamp on the story to see when it was last updated.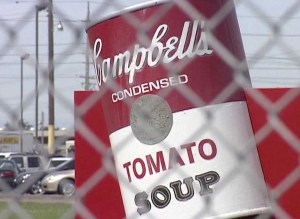 SACRAMENTO-
Sacramento area food banks are wondering how to handle a higher demand for their services with layoffs announced at Campbell's Soup and Comcast.
Mary Meagher with Sacramento Emergency Foodlink says charities are already struggling to keep up with demand.
"We're just worried about what this might do to the providers," said Meagher.
At Carmichael Food Closet, Jack Roach hopes they still get their twice yearly crate deliveries from the Campbell's Soup plant in Sacramento. He's worried they might have to buy the soup if the free deliveries cease, but their budget may not allow for that.
Some of the people he could end up helping, might come from the Campbell's plant, which has helping fill their shelves in the past.