This is an archived article and the information in the article may be outdated. Please look at the time stamp on the story to see when it was last updated.
DAVIS-
Officials at UC Davis are expecting more than 70,000 people to show up to campus Saturday for the 100th-annual Picnic Day.
With the influx of crowds in the area, both the campus police and fire departments are adding staff members to work the event.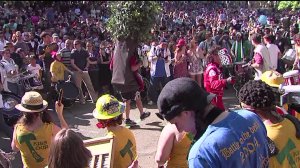 "We want to remind people that we have a zero tolerance policy for alcohol here," UC Davis Police Chief Matt Carmichael said. More than 70 officers from multiple agencies will patrol the event, according to Carmichael.
Enforcement will be patrolling the campus by bike and foot, administering alcohol sniff tests for those holding suspicious looking cups.
"We don't want people drinking." Carmichael said. "It's a family event that is fun without alcohol."
Last year, campus police made five arrests and wrote 19 citations. This year, their goal is make no arrests.