This is an archived article and the information in the article may be outdated. Please look at the time stamp on the story to see when it was last updated.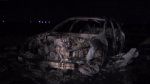 SACRAMENTO –
A car is charred and barely recognizable after it caught fire early Friday morning in Sacramento.
A witness driving by reported the fire at Kiefer Boulevard near Eagles Nest Road in Sacramento around 4:30 a.m.
It's unclear what caused the fire.
Police say they do not believe the car was stolen.