This is an archived article and the information in the article may be outdated. Please look at the time stamp on the story to see when it was last updated.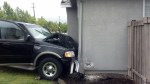 SACRAMENTO-
Sacramento firefighters say an SUV slammed into a house near the corner of Duckhorn Drive and San Juan Boulevard Tuesday afternoon.
The home appears to have very minor damage, as the SUV got the brunt of the impact.
No one was hurt in the crash, according to the Sacramento Fire Department.
Sacramento Police are now investigating the crash.