This is an archived article and the information in the article may be outdated. Please look at the time stamp on the story to see when it was last updated.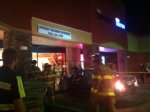 RANCHO CORDOVA-
Sacramento County Sheriff's deputies are responding to a car his three businesses: a restaurant, a dry-cleaner and a computer repair shop.
One person was reportedly hit, but not seriously hurt.
Deputies say a woman trying to park mistook her gas pedal for her brake pedal and slammed into the businesses.
Stay with FOX40 and FOX40.com for the latest as this story develops.