This is an archived article and the information in the article may be outdated. Please look at the time stamp on the story to see when it was last updated.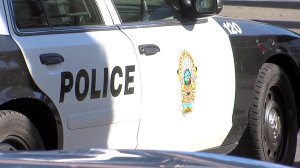 CERES—
No one was hurt in an officer-involved shooting that happened in Ceres over the weekend, police say.
According to a release from Ceres Police, officers showed up near 3rd Street and E. Whitmore Avenue around 7:30 p.m. after dispatchers fielded numerous calls of gunshots being fired in the area.
One witness reported that a man was firing a handgun into the air in front of a home.
Officers soon confronted three men in front of the home and ordered the three to the ground, but one man – 34-year-old Robert Anthony de Los Rios – instead bolted for the front door.
De Los Rios made it to the doorway before being confronted by an officer. Police then say that de Los Rios pulled out a handgun and turned towards the officer – forcing the officer to pull out his sidearm and shoot at the suspect.
At least one round was fire, police say. Residents in the area reportedly called dispatchers saying that a officer had been shot, but no one was injured in the incident.
People inside the home were ordered to come out, and once officers secured the scene a .40 caliber handgun was found just inside the front door.
Four people at the scene were detained but soon released. De Los Rios was arrested and is facing charges of attempted murder, among other charges.
The officer who fired his gun has been put on paid administrative leave, per protocol after officer-involved shootings.