This is an archived article and the information in the article may be outdated. Please look at the time stamp on the story to see when it was last updated.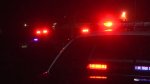 STOCKTON-
Police in Stockton say a pursuit through the Valley Oak district literally rolled to a stop when the man officers were chasing ran out of gas.
Scott Craig, 29, was wanted for battery after police say he punched his mother. Officers arrived at the home after Craig had already left. When Craig returned and saw the patrol unit, he turned around and sped off.
In all, officers say the chase lasted just three minutes. It reportedly reached speeds of around 60 miles per hour before officers called the chase off for safety reasons.
On Highway 99, Highway Patrol spotted Craig's black Toyota and began a second chase.
Craig was taken into custody after officers say he ran out of gas and rolled to a stop. He was booked into jail on charges of battery and evasion.
In Case You Missed It:
Couple Chases Down Attempted Carjacker
Slow-mo Chase Through Sacramento Neighborhood