This is an archived article and the information in the article may be outdated. Please look at the time stamp on the story to see when it was last updated.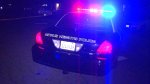 CITRUS HEIGHTS-
The 6-year-old boy that was crushed Tuesday night by a wrought iron fence has died, according to the Sacramento County Coroner's Office.
The child was taken via ambulance to the hospital.
Police are investigating how and why the fence fell.