This is an archived article and the information in the article may be outdated. Please look at the time stamp on the story to see when it was last updated.
SACRAMENTO – Officers responded to a storage facility in Sacramento on Tuesday night after receiving a report of a dead body in one of its units. Sadly, it was the body of 5-year-old Cali Anderson.
According to an affidavit obtained by FOX40's sister station, KOLO, the storage unit, on the 1800 block of Glenrose Avenue, belonged to Joe Garcia who called the police after finding a plastic drum that contained the decomposing body of a child.
Garcia said that Nevada resident Tyler Anderson called him and asked if he could store stuff in his storage unit on May 11, according to the affidavit. On May 14, Tyler asked to store more stuff. Garcia called the police on May 15 after discovering Cali's body.
The manager of the storage facility said they are, "cooperating with law enforcement, 100 percent."
The Reno Police Department says Tyler and his wife Averyauna rented a vehicle which was used to transport the child's body from Reno to Sacramento. The affidavit stated it was a U-Haul van that was rented on May 10.
The Andersons have two boys together. Cali, Tyler's daughter, appeared to be malnourished and emaciated, according to the coroner's exam information found in the affidavit.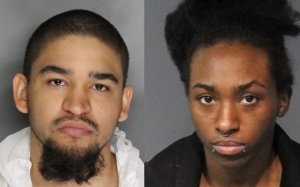 Sacramento and Reno police departments have entered a joint investigation into the case; Reno is the lead agency.
According to the Reno Police Department, Cali Anderson died sometime in the last two weeks; inside of the Andersons' apartment in Reno.
According to the arrest affidavit, Averyuana stated, during an interview with law enforcement, that Cali was experiencing health problems but did not seek medical attention for the little girl because Cali was her husband's daughter and therefore his responsibility.
The affidavit obtained by KOLO also contained the following information:
Avaryauna stated that Cali became unresponsive on May 4th around 10 p.m. The Andersons tried CPR until 1 a.m. the next morning before putting Cali in a cold shower in an attempt to wake her. They did not call 911.
The Andersons put Cali's body into a duffel bag then put the bag in a closest for seven days.
After serving a search warrant at the Andersons' apartment, investigators found an animal crate in the bathroom with handcuffs attached; a girl's backpack next to the crate with clothes inside and a hat that said "Cali" on it. There was no sign of a pet living in the apartment.
Neighbors thought the Andersons only had two kids, both boys; no one mentioned a girl. It is believed that they isolated Cali from the public.
When entering the Andersons' home to speak with Averyauna, Reno police noticed that the home was extremely unkempt with spoiled food on the counters and floors.
Investigators revealed that the child had been severely neglected prior to her death.
Cali's mother, Leyanie Robinson, said Tyler Anderson had full custody of their daughter.
Robinson said Cali was always smiling and wishes her daughter was with her instead of with Tyler Anderson.
On Wednesday, detectives arrested Tyler Anderson. He was booked into the Sacramento Main County Jail on manslaughter charges. He is awaiting extradition back to Reno.
Investigators say Averyauna Anderson is in custody at the Washoe County Jail in Reno – facing two charges – the first:  child abuse, the second destroying or concealing evidence.
Both Averyauna Anderson and Tyler Anderson were arrested on Wednesday.
Kevin Ward, who knows Tyler, said, "It's hard for me to believe Tyler would do anything like this or be involved in something like this because he loved that little girl but you don't know what people do behind closed doors."
Robinson says she wants to know why this happened to her daughter and that she is "confused and distraught."
"How could you do that to your own child ?" asked Robinson, referencing Cali's father, Tyler. Robinson says she has "overwhelming feelings of anger, sadness and disappointment."
Robinson also questioned why the animal cage was in the Andersons' home.
"Why did they have that in there? Did [the Andersons] use that for my daughter?"
Robinson says she is heartbroken and angry she did not have custody of her little girl. She says she would have taken care of Cali.
"I would have made sure she had clothes on her back and food in her belly at all times," said Robinson.
Cali's family has set up a GoFundMe page. If you would like to donate, please click here.