This is an archived article and the information in the article may be outdated. Please look at the time stamp on the story to see when it was last updated.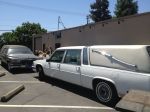 MODESTO-
The Stanislaus County Sheriff's Coroner said Friday that 17 bodies were removed from a funeral and cremation business.
The Sheriff's Department said in a statement that McGuire Cremation and Funeral Service had been at the center of an investigation into "potential criminal and civil violations" in the last few months.
The service's burial and cremation permits were suspended May 1 by the county's public health office.
So what can you do to find a reputable funeral home, cemetery or crematory? Experts in the so-called "deathcare" industry say start with referrals from family and friends.
And look up the license of the business or operator you plan to work with. The state has records of its disciplinary actions online for everyone from embalmers and cemetery salespeople to crematories and funeral directors.
Click here to go to the California Department of Consumer Affairs licensing database. Scroll down to where it says 'Cemetery & Funeral Bureau.'
Lance Klug contributed to this report.