This is an archived article and the information in the article may be outdated. Please look at the time stamp on the story to see when it was last updated.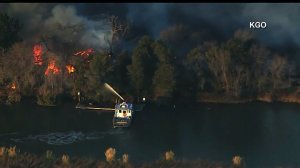 KIMBALL ISLAND-
Firefighters say one home on Kimball Island was completely on fire Tuesday afternoon, and two others were threatened.
In all, about 40 to 50 acres were burned, crews said.
Firefighters from various surrounding agencies pitched in to battle the flames.
No one was hurt and everyone was accounted for. The flames were extinguished by evening, though crews remained on hand to keep an eye on potential hot spots.
According to CNN, firefighters first reported having a hard time getting to the fire. Eleven people left and three others remained on the island, the Coast Guard said.