This is an archived article and the information in the article may be outdated. Please look at the time stamp on the story to see when it was last updated.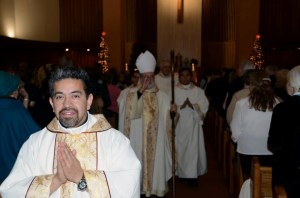 DAVIS-
After several weeks of investigation, the Davis Police Department has arrested a Catholic priest for statutory rape.
UPDATE: Davis Priest Arrested for Relationship with Minor, on Administrative Leave
Police in Davis began an investigation regarding allegations of the sexual abuse of a 17-year-old girl earlier this month. During the investigation, police determined that Father Hector Coria, 45, had befriended the girl while he was a priest with the Catholic Church.
Father Coria began a sexual relationship with the minor in late 2013, and engaged in the relationship frequently since.
Davis police arrested Father Coria on May 9th, and he was booked into the Yolo County Jail.
Kevin Eckery, the spokesperson for the Roman Catholic Diocese of Sacramento, announced "In keeping with diocesan policy, Fr. Coria has been placed on administrative leave, his faculties have been withdrawn and he may no longer publicly function as a priest while this matter is under investigation by local law enforcement and Davis Police."
Fr. Coria is a priest at the St. James Parish on 1275 B Street in Davis, and he was ordained into priesthood in January of 2011.
If anyone has additional information regarding this crime or other victims, they are urged to contact the Davis Police Department at 530-747-5400.
Greg Cotta filed this report.