This is an archived article and the information in the article may be outdated. Please look at the time stamp on the story to see when it was last updated.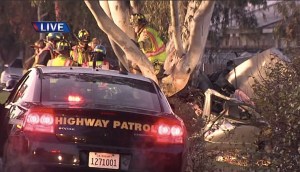 LODI
A deadly crash slowed down southbound Highway 99 near Highway 12 in Lodi early Thursday morning.
The right lane of Highway 99 is closed and drivers are advised to use I-5 as an alternate route.
The two cars, a Honda Accord and a Dodge Avenger crashed into each other around 6 a.m., leaving the woman in the Honda dead. The man in the Dodge is uninjured.
After the Honda was hit, it went down an embankment and hit a tree. CHP says the impact from crashing into the tree was far greater for the woman than the car crash itself.
They said the woman was wearing a seatbelt and it doesn't appear drugs or alcohol were involved in the crash.