This is an archived article and the information in the article may be outdated. Please look at the time stamp on the story to see when it was last updated.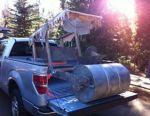 SACRAMENTO-
The replica Flintstones mobile that was stolen last month from World's Best Comics in Sacramento has been recovered and returned, the Sheriff's Department said Monday.
Dave Downey, the owner of the shop, had offered a six-pack of Cactus Cooler as a reward after the car was stolen around Dec. 14.
With the help of surveillance video from a nearby bowling alley, Sheriff's detectives tracked down the alleged thieves – a trio of high schoolers. The car was found at a ranch in Apple Hill, deputies said.
Downey won't be pressing charges. Instead, deputies say the three teens will be helping Downey out at his shop.
The car was donated to the shop by a customer.
Read more about the stone-age heist by clicking here.
Ian McDonald contributed to this report.