This is an archived article and the information in the article may be outdated. Please look at the time stamp on the story to see when it was last updated.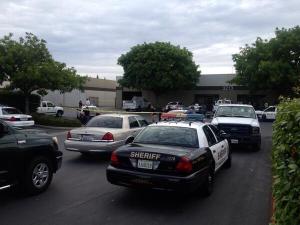 RANCHO CORDOVA-
A workplace argument escalated to gunfire Thursday morning.
UPDATE: Suspect in Workplace Shooting Arrested
Sacramento County Sheriff's deputies were called to a business along Fitzgerald Road in Rancho Cordova around 7 a.m.
Investigators say two co-workers were arguing, when one pulled out a gun and shot the other.
The victim was taken to the hospital, they were conscious at the time, but their condition is unknown.
Deputies are currently looking for the shooter, they say he is driving a red Honda.
https://twitter.com/sacsheriff/status/464426854472888320
Deputies later corrected the victim did not die, and this is not a homicide case.
They are still gathering information, updates will be posted on FOX40.com as they become available.