This is an archived article and the information in the article may be outdated. Please look at the time stamp on the story to see when it was last updated.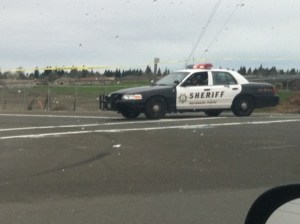 ANTELOPE-
Deputies shot and killed a man walking along Antelope Road early Sunday morning.
Around 2:15 a.m., Sacramento County Sheriff's deputies got several calls from people living near Antelope and Walerga Roads who heard gunshots.
While deputies were on their way to check it out, they got more calls reporting a man walking near Antelope Road with a gun. The man, in his late 20s, was walking near Don Julio Boulevard with an assault rifle when deputies asked him to drop the weapon.
According to the deputies, the man refused to drop the rifle, and pulled a second gun from inside his jacket, and pointed it at them.
Both deputies shot at the man; he was treated by emergency personnel but later died at the hospital.
No one else was injured in the incident. The identity of the man will be released after family has been notified.
Investigators do not know why the man was walking with two guns, or where he was headed.
It is still unclear if the incident that took place is related to what originally brought officers to the area: the incidents happened 20 minutes apart, but in a reported 30 minute walking distance.
"It's hard to confirm if this was in fact the subject that fired those initial gunshots that people were reporting," said Sgt. Lisa Bowman.
The deputies involved in the shooting are being placed on administrative leave during the investigation, according to protocol.
Sam Cohen, Rina Nakano, and Ben Herrera contributed to this report.