This is an archived article and the information in the article may be outdated. Please look at the time stamp on the story to see when it was last updated.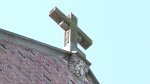 STOCKTON-
The Catholic Diocese of Stockton said Friday that it may file for bankruptcy after sexual abuse lawsuit settlements have "depleted" their funds.
"I feel, however, that it is important to tell you that options other than filing for bankruptcy protection have not emerged," Bishop Stephen Blaire said in a written statement. "It appears likely to me that the Diocese will need to re-organize [sic] financially under the protection of Bankruptcy Court."
No final decision has been made, however.
The Diocese serves 250,000 Catholics, it says. Bishop Blaire says he will keep everyone informed once a financial decision has been made.
Lonnie Wong will have a full report tonight on FOX40 News at 6.