This is an archived article and the information in the article may be outdated. Please look at the time stamp on the story to see when it was last updated.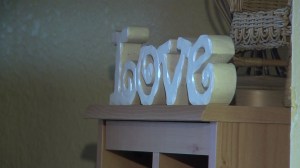 SAN JOAQUIN COUNTY-
The reality of what's happening in San Joaquin County has forced two sisters and their best friend to unite on a mission to rescue victims from human sex trafficking.
"I want to help young women out of a very serious endangered situation that they've been going through. I just felt like I need to give back," said Standing Point Founder Lisa McHenry.
McHenry, along with her sister and Co-Founder Roxanne Nunis and friend Rhoda Tamarra, have set up a safe house in San Joaquin County. The safe house will host four to six girls once it gets its operating license from the California State Department of Social Services.
Though the house is ready for use, Starting Point — the first safe house of its kind in San Joaquin County — can't accept any victims until the organization raises $15,000 to prove it's worthy of an operator's license.
"The magic number is because of operating expenses … Without that licensing [they] don't take you serious, unless you have enough money to float for three months, and so that's three months of cost," said McHenry.
McHenry has invested $33,000 of her own money. But to make her dream a reality, Starting Point will need financial support from others.
"Please just get our name out there bring awareness to human trafficking. Donations, we're doing many fundraisers people can attend on our website. You can make donations there as well … Just time, small donations, anything would help," said administrator Kristeena Brooks.
Standing Point means what it says: for example they are currently running a fundraising campaign where they will accept just four cents a month from it supporters.
To find out more information about Starting point just go to mchenrycare.org.