This is an archived article and the information in the article may be outdated. Please look at the time stamp on the story to see when it was last updated.
SACRAMENTO-
Using a pickup truck to smash the front glass door, burglars were in and out of a Sacramento pharmacy in just 30 seconds.
Surveillance video shows the white truck backing into the front of the store twice, then two of the suspects going into the Valley Pharmacy behind Methodist Hospital carrying a large plastic tub.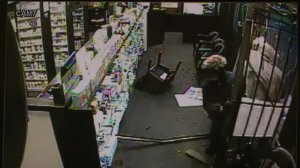 Once inside, the men go right for the medications, taking promethazine and hydrocodone. The owner told FOX40 he is still doing an inventory to see what else was taken.
Hydrocodone is more commonly known as vicodin. Stolen promethazine is sometimes mixed with soft drinks to create a concoction referred to as "purple drank" or "sizzurp".
The suspects were wearing masks and gloves.
This is not the first time Valley Pharmacy has been robbed in such a dramatic fashion.
In January, robbers armed with a gun demanded prescription drugs and cash from the clerk in the middle of the day.
In December 2012, a burglar was able to smash through 2-inch thick glass to get inside the pharmacy. Surveillance video showed the burglar smash the window, cut himself on the glass, then climb inside. He then took off with cough syrup, leaving a trail of the purple stuff and his own blood.
See the surveillance video from the 2012 by clicking here.
The pharmacy owner told FOX40 his store has been robbed at least five times.