This is an archived article and the information in the article may be outdated. Please look at the time stamp on the story to see when it was last updated.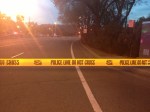 SACRAMENTO-
A pickup and tow truck collided Wednesday evening near Sac State, killing one person.
Investigators believe one of the trucks ran a red light, smashing into the other at the intersection of Carlson Drive and H Street. The 60-year-old driver of the pickup truck was taken to the hospital where he later died.
It's unknown if the pickup driver was wearing a seat belt or if alcohol played a role in the crash.