This is an archived article and the information in the article may be outdated. Please look at the time stamp on the story to see when it was last updated.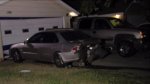 SOUTH SACRAMENTO –
A driver slammed into three cars early Wednesday morning in South Sacramento.
The crash happened  around 1 a.m.
Sacramento County sheriff's deputies believe two cars may have been racing. The drivers ran off after the crash.
Deputies set up a perimeter to find the drivers, but were unable to.
The owner of one of the cars hit says she's graduating today, but kept things in perspective. "Everybody's ok. Cars can get fixed. Our lives can't get fixed.
We're good, we're in good condition."