This is an archived article and the information in the article may be outdated. Please look at the time stamp on the story to see when it was last updated.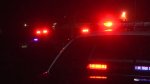 SACRAMENTO—
Police say that someone suspected of driving under the influence crashed into a fire truck late Saturday night.
Officers showed up near 21st and J streets a little before midnight to help fire personnel. The crew was dealing with a combative person who had just crashed into their fire truck.
The officers found that the driver was drunk and had ran a red light only to hit a taxi, then another car, and finally crashed into the back of a parked fire truck that was in the area for an unrelated situation. The driver then got out of the battered car and got in a struggle with the fire crew, police say.
Both the driver of the taxi and the person suspected of DUI were injured in the incident. Officers have taken the driver suspected of DUI to the hospital.