This is an archived article and the information in the article may be outdated. Please look at the time stamp on the story to see when it was last updated.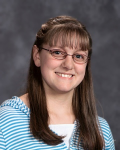 SHINGLE SPRINGS-
The El Dorado Sheriff's Office says to be on the lookout for a 15-year-old girl that reportedly ran away from her Shingle Springs foster home on Nov. 1.
Juliet Riffey is a white female, just over 5 feet tall and weighs 110 pounds. She has brown hair, blue eyes and wears wire-framed glasses.
Deputies say that because of her being home schooled and having little contact with people outside her home, there is a high concern for her safety. Investigators say it doesn't look like she packed anything before her disappearance.
Anyone with information about Riffey's whereabouts is asked to call El Dorado County Sheriff's Detective Gallagher at (530) 642-4720.