This is an archived article and the information in the article may be outdated. Please look at the time stamp on the story to see when it was last updated.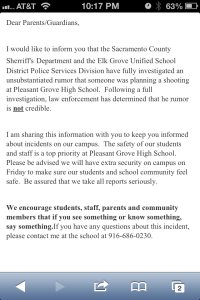 ELK GROVE-
Pleasant Grove High School parents are on pins and needles over a threat of a shooting at the school Friday.
The school officials say it is completely safe for kids to come to school and that they deemed the threat not credible.
Police were on campus all day Thursday and say the threat of gangs showing up with guns was fabricated.
The school did send out a letter to parents, explaining the problem and that they felt the school would be safe for students to attend Friday. They also went further to explain if students or parents ever see anything, they should report it to school officials and police.
At least one parent FOX40 spoke to isn't sure if he will send his daughter to school, he wasn't convinced the threat wasn't real.