This is an archived article and the information in the article may be outdated. Please look at the time stamp on the story to see when it was last updated.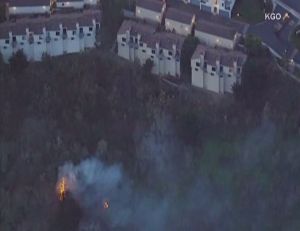 PACIFICA (AP) —
At least five acres have burned as firefighters continued to battle a stubborn grass fire that has prompted evacuations south of San Francisco.
The San Francisco Chronicle reports that evacuations have been ordered Monday morning because of a six-alarm grass fire in Pacifica.
No injuries have been reported.
The fire was reported at 3:35 a.m. in brush and vegetation on a street near Highway 1.
Clyde Preston of the North County Fire Authority says about 80 to 90 homes in the Rockaway Beach area have been evacuated. Residents are being taken to the Pacifica Community Center for assistance.
Preston says the fire began in a heavily wooded area and was quickly whipped up by winds gusting up to 15 mph. About 50 firefighters were battling the blaze, he said.