This is an archived article and the information in the article may be outdated. Please look at the time stamp on the story to see when it was last updated.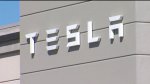 STOCKTON (LA Times)-
Experts say California's Central Valley, and Stockton specifically, is shaping up as a top candidate for Tesla's new factory.
The Los Angeles Times says economists and business development experts point to Stockton's industrial-zoned property, a port that handles ocean-going vessels, major freeway access and nearby rail and airport facilities.
Northern California is already home to Tesla's car assembly line in Tesla in Fremont and the electric car company's new parts facility in Lathrop.
"If they locate in California, is Stockton the clear winner? The answer to that one is yes," Stephen Levy, director of the Center for Continuing Study of the California Economy, told the LA Times.
However, that's a big "if". California was not even being considered for Tesla's new 6,000+ worker factory until just recently. The company is also considering locations in Arizona, Nevada, New Mexico and Texas.
Last month, Senator Ted Gaines, R-Roseville, went to Texas to meet with Tesla executives and Texas businesses. A few weeks before Gaines' trip, Texas Governor Rick Perry visited Northern California to lobby Tesla for his state.
Read more about Stockton's chances of getting the Tesla plant on LATimes.com.