This is an archived article and the information in the article may be outdated. Please look at the time stamp on the story to see when it was last updated.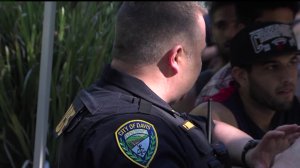 DAVIS –
At UC Davis' Picnic Day, students all have their favorite events.
Unfortunately it's also an event which in the past has led to trouble with underage drinking. But today, UC police say they made just four arrests and issued only five tickets for open containers.
"Considering the number of people they were dealing with, Matt Carmichael, the chief of police for UC Davis, calls that a success.
"Considering there are 75,000 people here on campus, and to have 10 or so incidents I would tell you that that's been a good day," Carmichael said.
But he says his department had a lot of help doing it.
"It's definitely an all hands on deck. We have support here from our friends at Los Rios College Districts, Sacramento State Police, San Francisco State Police, UC San Francisco, UC Irvine, UC Riverside. We've got a pretty big group here. Our Yolo County Bomb Squad is here helping us out. We run about 60-70 officers throughout the day."
Carmichael believes the rest of the night will continue to be a safe one, as long as the students and others celebrate responsibly.
"The advice I give is stay safe, stay in a group, make sure you take care of each other. You know we're really good about designated drivers. Tonight let's have a designated friend, someone who stays sober, drink lots of water and have a good time," said Carmichael.