This is an archived article and the information in the article may be outdated. Please look at the time stamp on the story to see when it was last updated.
RANCHO CORDOVA-
A mother's cries in the darkness couldn't drown out the haunting sound of the Regional Transit warning bells that should have alerted her daughter a deadly threat was near.
"I hate them for hitting my baby," Amanda Burgess said through tears as she talked about her 15-year-old daughter, Mariah.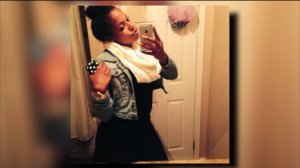 More than one hundred people gathered  in Rancho Cordova to hold up a bright light for the even brighter one they say was snuffed out during a walk home from Cordova High School.
One of seven children, Mariah, was walking with her twin Myia and their other siblings when she was hit at Folsom Boulevard and Coloma Road by a light rail train servicing the Gold Line.
"We just saw her. We were just talking with her," said Angela Byron, the  mother of one of Mariah's friends from school.
Regional Transit investigators say the train operator hit the brakes but wasn't able to stop before impact.
They tell FOX40 video surveillance in the area shows Mariah walking into the path of that train despite the blaring horn sounded by the operator.
There are reports she was wearing earbuds or earmuffs.
With hearts so broken and emotions running so high, it's not  a scenario sitting well with her family,
"I want to see the tape RT. I want to see the tape, want to see proof why she's dead right now. He hit her so hard they severed my daughter out here on the tracks. They severed her," Mariah's father Dwayne Burgess cried to the crowd.
Their need to be where Mariah left them, left the Sacramento County Sheriff's Department  and  RT warning her loved ones that remembrance wasn't worth the risk of another life.
A helicopter blasted down voice encouragements for the mourners to move off the tracks.
As for Mariah, everyone at the memorial is convinced they know where that life, that light has gone.
The faithful teen was just asking all about heaven in bible study on Tuesday.
"God you do not make mistakes and you use everything to show your glory. We're asking Father God for you to show your glory in this situation," prayed her pastor Raymond Bradley.
Regional Transit procedure following an incident like this is to have the operator undergo alcohol and drug tests and for them to be placed on administrative leave.
Video of the accident was recorded from inside the train and will be reviewed as part of the investigation.
During the memorial gathering, RT fielded reports of a rock being thrown at one of its trains.
No damage was found.