This is an archived article and the information in the article may be outdated. Please look at the time stamp on the story to see when it was last updated.
ELK GROVE-
Service dog, or loyal family pet? A family says they spent thousands of dollars for a guide dog, but that is not what they received. And now, the Yuba County company is facing more accusations.
"Bolt really tries, you know, but it's not his fault 'cause he wasn't properly trained," Emily James told FOX40.
No one is debating that Bolt is a good dog, but the James family says he is supposed to be a service dog.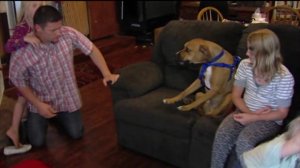 The family told FOX40 they got him from Pawsitive Service Dog Solutions in Yuba County, and paid $14,000. Bolt was meant to help their son, Sam, who has autism.
"But he (Bolt) ends up just walking all over him and it makes him cry," James said. The family says Bolt is supposed to be trained to track Sam by his scent, which he doesn't.
The James family is now suing the non-profit, along with several other families who claim their so-called service dogs, are not performing their service.
FOX40 reached out to two lawyers representing Pawsitive Service Dog Solutions, and did not hear back.
We did hear from another family who received a dog from the company, and they say their service dog was trained "to a t."
The James family says they are upset about losing their money, but they won't give up Bolt.