This is an archived article and the information in the article may be outdated. Please look at the time stamp on the story to see when it was last updated.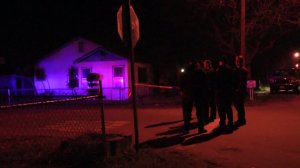 MODESTO-
Friends and relatives of 17-year-old Marty Kent spent Monday afternoon washing cars to raise reward money and cover funeral expenses.
"It just hurts us all because this money ain't going to bring him back," said Kent's cousin, Shelby Robertson.
The Modesto teen was shot and killed outside his house on Leon Avenue Wednesday night.  Witnesses say he jumped in front of his mother, taking a bullet that could have killed her.  His family is struggling to make sense of the shooting.
"He wasn't out there running the streets, thinking he was cool," Marty's brother, David, told FOX40.  "He stayed home with his brothers, and loved his girlfriend."
Investigators are following leads of a possible green Jeep Cherokee seen driving away from the scene on the night of the shooting.  Family members are urging witnesses to do the right thing.
"I don't care who you are, just come forward," pleaded Robertson.
"I don't know if anybody else has seen their brother die right in front of them and his eyes close…I lost a big piece of my heart that night," David reflected.
Tips should be called into the Stanislaus County Sheriff's Department.
The family is planning another car wash for Tuesday on Crows Landing Road near Hatch.  To donate toward Marty's funeral expenses, click here.