This is an archived article and the information in the article may be outdated. Please look at the time stamp on the story to see when it was last updated.
Folsom -- The builder of a two-story backyard treehouse in Folsom is hoping that Folsom city officials will work with him and allow him to keep it.
Brian Escola is the father of four who replaced a more primitive treehouse that was falling apart with an elaborate structure that towers above his backyard.
But when code enforcement got wind of his treehouse they said all the rules for an outer structure weren't followed.
Escola actually supports the efforts of code enforcement to make sure structures are safe and built to code.
But he also says he saw nothing in the city codes that pertain to a treehouse.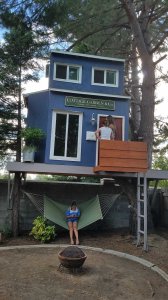 Social media posts drew a huge number of supporters of the treehouse.  There are no complaints from his neighbors because their kids play there too and because it is so well designed.
Code enforcement officers are taking a second look at his treehouse and even had an arborist come to examine the two trees on which it sits.  Escola says he has no problems with whatever decision is made and has offered to help the city develop separate codes and regulations for treehouses because he believe they can enhance a city known for being family friendly.